Greetings! This is a one of my favorite photos, as you can probably tell because i have it constantly framed on the side of my blog lol. They are the pink blossoms of an Engelmann's Hedgehog cactus (
Echinocereus engelmannii)
that I found blooming in the Chihuahuan Desert of west Texas a few springs ago. They are few and far between on our ranch here but in the spring time when they do bloom they are very easy to spot because of thier vibrant color.
You should be able to click on the picture and it will take you to
My Website
and if not you can click on the link I just embedded. Please leave Me a comment if you cannot navigate to
My Website
by clicking on the photo. I have many other photos of Cactus of the desert southwest in my gallery
Plants and flowers
so please check it out.
You can also purchase postage stamps featuring this Photo and many more products here in
My Zazzle store
All products are customizable.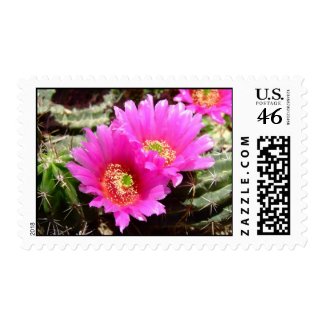 Pink cactus blossom postage stamp
by
Meganrene88
Create your own
personalized photo postage stamps
online at Zazzle.